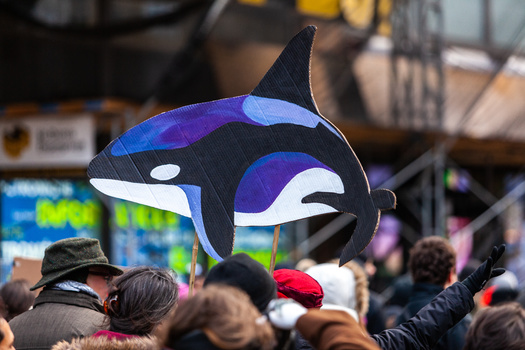 Youth Rally to Save Northwest Salmon Call for Dam Removal / Public News Service
Young people are leading the charge this weekend in calling for the removal of four dams conservation groups say will help salmon survive in the North West.
The rally and march for salmon and orca are held Saturday in Seattle, to urge Washington state leaders to remove four lower dams from the Snake River.
Owen Begley-Collier, a junior from Roosevelt High School in Seattle who helps organize the event with his band, Snake River Savers, said killer whales have been one of his great loves since he was a child, but he worried about their future.
"Since four federal dams were built on the lower Snake River, wild salmon populations have plummeted," Begley-Collier said. "What deprived these ecosystems and communities."
Gov. Jay Inslee and Sen. Patty Murray, D-Wash., plan to release their recommendations for lower Snake River dams by July 31. Conservation groups have encouraged the public to contact them to suggest breaking down the dams. Proponents of dams have argued that they are important for power generation, traffic control and irrigation.
Begley-Collier stressed he would take action beyond the vote to remove the roadblocks.
"If you vote for someone you think matches your values, but you don't hold them accountable to do what you want them to do, they won't act unless you put pressure on them. on him and don't just vote anymore," Begley-Collier argued. "I think as young people we've kind of realized that, because we can't do that yet.
Begley-Collier noted that Inslee and Murray promised the salmon would not go extinct under their watch, and he thinks they need to back up their claim.
"The scientific consensus is, and has been for decades now, that the only way to make sure these species don't go extinct is to break down the Snake River dams," Begley-Collier said. "The only way to make sure you're not lying about it is to break down the Snake River dams. That's the only option left."
The event begins at 11 a.m. at Central Lutheran Church Hall. Other organizations involved in the rally include the Endangered Species Coalition, Save Our Wild Salmon and the Washington Environmental Council.
Disclosure: The Endangered Species Coalition contributes to our Endangered Species and Wildlife Reporting Fund. If you would like to help support news in the public interest, click here.
get more stories like this via email