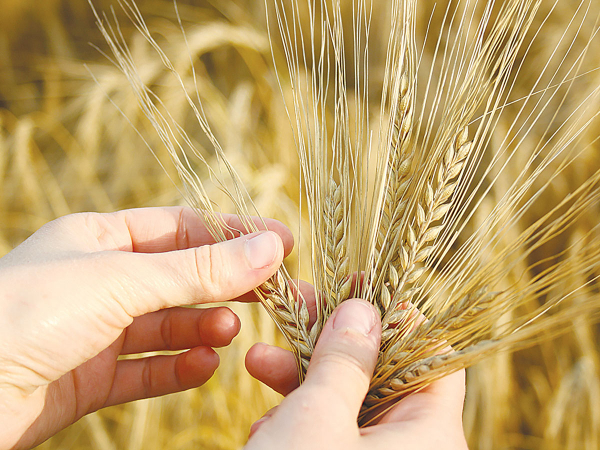 The duo of sprays provides optimal protection in high-stakes cereal crops
As Seed Cereals Manager at Carrfields, Ashburton, Phil Smith carries a tremendous amount of responsibility.
The varieties that he and his team supply to producers must perform well in order to recoup their clients' significant investment in agricultural inputs.
After a difficult summer, one of Smith's clients described the recent harvest as 'one of the worst Canterbury has had in years'.
Many factors contribute to obtaining a good grain yield, the main one obviously being the cultivar selected. However, an important consideration is the choice of treatment applied to the seed.
Kerrin, Carrfields current flagship wheat variety and world record holder, was bred in the UK and is sold exclusively in New Zealand by the company. It has proven to be a good choice for use in a variety of growing conditions around New Zealand.
The seed treatment applied at Kerrin is the relatively new Kinto Duo as a fungicide and the well-established Poncho for insect pest control. BASF manufactures both products.
Kinto Duo is currently Carrfields' preferred fungicide treatment for cereal seed crops. It's not as well known as some of the alternatives, but the company now uses it on all of its wheat and barley.
Phil Smith's confidence in the product is firmly based on first-hand experience. Several years ago, Carrfields put Kinto Duo through their own trials at Canterbury.
"We were really, really happy with the emergence. With such a fast rotation, early vigor is always crucial, and in the fall it is much colder here at the start of the season. We like to grow crops before winter comes. "
Differences were also noted in the health of seeds that were stored after treatment.
"Some of the older products are quite harsh on the seeds. If the seeds are damaged — with cracked husks, etc. — germination is affected," Smith says.
"Kinto is much gentler on the seed. When we store treated seed for 6 months or longer, there is no obvious sign of seed degradation and we have seen no impact on germination.
Although it is important to protect the emergency of the seed, the main role of Kinto Duo is disease control.
"We use it primarily in wheat for fusarium and seedling rusts," Smith says. "Kinto seems to be controlling them well."
The fungicide takes care of the early threat of fusarium, then they follow it up with three to four foliar sprays.
"Most of our foliar fungicide regimen is geared towards Septoria tritici," he adds.
It turns out that Kinto Duo is not more expensive than the old industry standards.
Smith believes the added dimension of protecting high germination rates and promoting early vigor suggests an excellent return on investment.
Although this trial work convinced the Carrfields team to switch to a new product for disease control, they still saw no reason to stop relying on Poncho to manage early insect pressure.
"While there are Poncho alternatives, we prefer to stick with something we can rely on," Smith says. "Currently, all of our winter wheat and barley are Poncho treated."
The biggest pest targets are grass larvae and aphids, with the greatest concern being the danger of aphids spreading barley yellow dwarf virus (BYDV).
"BYDV can cause a huge yield loss. Poncho provides that first window of protection," he explains.
Recent history suggests that Carrfields has found a reliable formula for success in grain farming in Canterbury, where the stakes are so high.