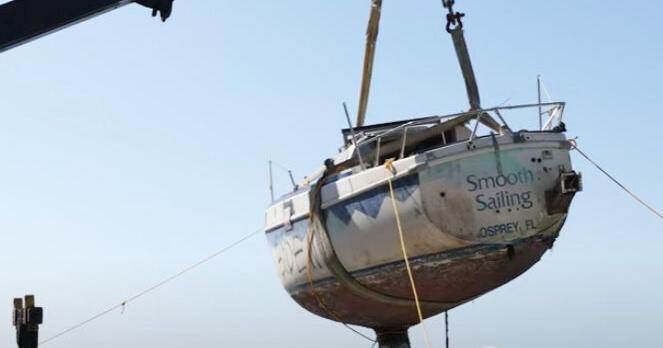 New Process Enables Removal of Dangerous Vessels from Pinellas County Waterways | Pinellas County
DUNEDIN — Pinellas County Sheriff Bob Gualtieri held a news conference Feb. 21 about a new administrative process that allows for the removal of dangerous vessels abandoned in the Intracoastal Waterway and Tampa Bay.
Gualtieri said citizens have long complained about the problem of abandoned ships, as well as ships living on board and boats in mooring fields. He defined an abandoned ship as one that had been abandoned by its owner. He said as many as 34 such ships, some derelict for more than a year, would be targeted in a campaign to remove and destroy them over the next few weeks.
Abandoned vessels are a hazard to the public, boaters, personal watercraft and swimmers, Gualtieri said.
"On top of that, they're also an eyesore," he said.
Despite years of needing to do something about the problem, it wasn't until a few months ago that a legal framework was developed giving the sheriff's office two ways to address it. Gualtieri said the new administrative process begins when a notice is posted on an abandoned vessel, giving the owner 21 days to claim it and request a hearing. If the owner does not request a hearing, the sheriff's office can remove it and the vessel can be destroyed.
The 21-day period for the majority of vessels targeted for removal expired last week with only one owner claiming his boat, Gualtieri said. The sheriff's office hired Divecom Marine, which has already begun "pulling ships out of the water," Gualtieri said. Divecom charges per foot. The cost for a 25 foot boat would be around $5,000. The money will come from the general fund.
Gualtieri said the cost was worth every penny to get as many derelict ships out of the water as possible to remove the horrors and get rid of the safety issues.
County Commissioner Kathleen Peters also spoke at the press conference. She thanked District 69 Representative Linda Chaney of St. Pete Beach and the Florida Fish and Wildlife Conservation Commission for their help in finding a way to deal with derelict vessels.
Peters said 21 days was important because it allowed the ships to be retired in less than a month, allowing the county to remove contaminants that could harm the environment.
Dunedin Mayor Julie Bujalski also welcomed the new process, saying the city had received numerous complaints about one particular ship that had been abandoned for some time. She compared the Intracoastal Waterway to a road.
"It's just a waterway," she said. "You wouldn't leave an abandoned car on Alt. 19, and you should not leave an abandoned boat in the waterway.
The sheriff's office will also crack down on illegal vessels living on board. Gualtieri said it is not illegal to live on a ship as long as it has seaworthy propulsion.
"It doesn't matter what it looks like, its color or its size," he said.
As long as the vessel meets seaworthiness tests and has an engine that allows it to be moved, it is legal to live, he said. Vessels that fail the test will be cited and the owner fined.
The sheriff's office has also received complaints about ships parked in mooring fields. Gualtieri said a mooring field is not a group of five to six boats grouped together and anchored together. He said a mooring field consists of an area with poured concrete, rebar and other material that has a buoy that ships attach to.
It is an offense to park a ship in an illegal berth, he said. The owners of boats that will anchor in these areas will be cited and the mooring area will be removed. Mooring fields are permitted only with state permission.
Gualtieri wants the public to know that the sheriff's office is aware of citizen complaints and plans to do what it can within the law to resolve the issues.
The plan was to remove 17 ships last week, which would be taken to Pinellas County Solid Waste and destroyed.
"Going forward, we're going to clean up this mess and not let it go back to where it is," he said.
Suzette Porter is the Pinellas County Editor of TBN. She can be contacted at [email protected]