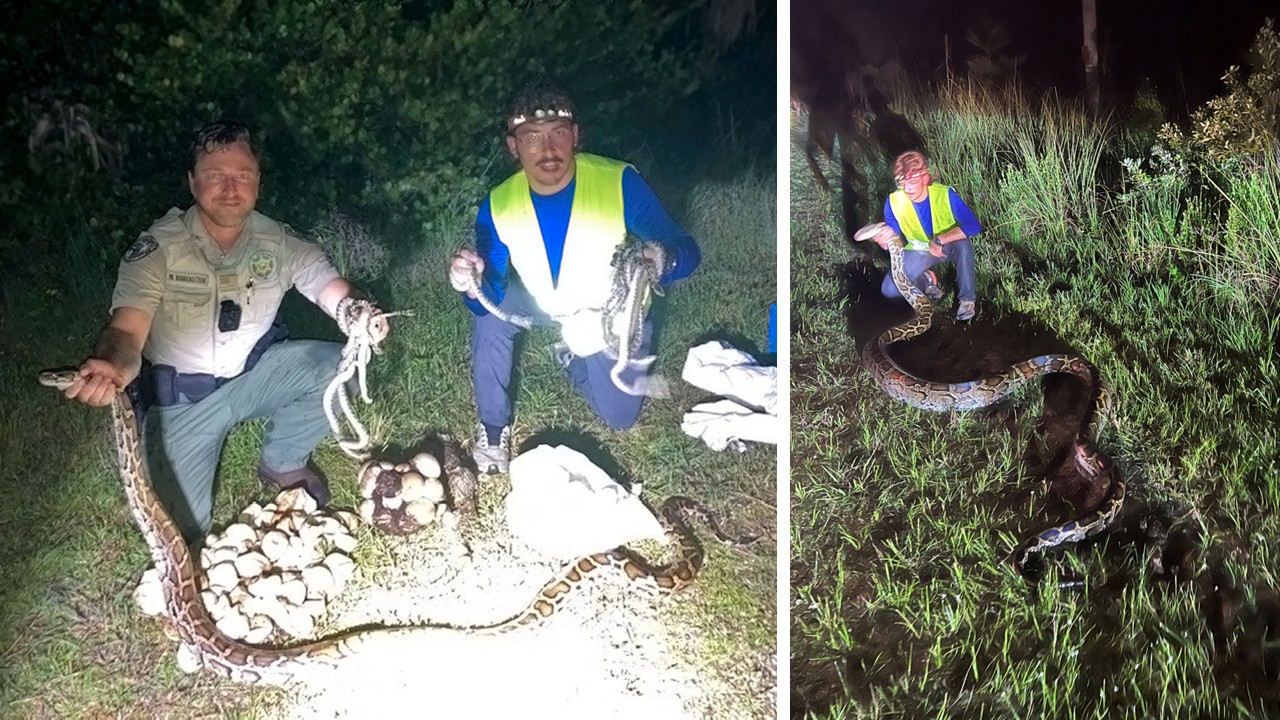 Florida python nest plundered as invasive species removal continues
A Burmese python nest has been attacked in Florida, as efforts to remove invasive species continue.
Florida Fish and Wildlife Conservation Commission (FWC) Officer Matthew Rubenstein was on a night patrol in Big Cypress National Preserve when he came across Alex McDuffie, an officer with the Python Elimination Program, the FWC said in a Facebook post. The Python Elimination Program's goal is to take "aggressive action to protect the Everglades and eliminate invasive pythons from across the landscape," according to its website.
McDuffie had just discovered a nursery of Burmese pythons and was on the lookout for more hatchlings.
Rubenstein joined efforts and together they came across a female python and 18 hatchlings. The female was also guardian of a nest of 23 unhatched eggs.
"Pythons and unhatched eggs have been removed from sensitive habitat, helping to prevent future negative impacts on our native wildlife," FWC said in a statement.
This follows an increase in efforts to reduce the population of Burmese pythons in the Florida wilderness.
Newsweek approached the Florida Fish and Wildlife Conservation Commission for comment.
Burmese pythons, native to Asia, are an invasive species in Florida. They were first introduced into the environment in the 1970s as pets that had likely been released into the wild. The exact snake population is unknown, but their population has exploded in recent years and there are thought to be 100,000 in the state.
Since being released into the Florida wilds, they have expanded their range into Big Cypress National Preserve and the Everglades.
Their presence has been disastrous for the native ecosystem – the snakes feast on native wildlife, such as white-tailed deer, and therefore significantly affect the preservation of wetlands.
Researchers are often on the lookout for large breeding females living in the area in order to remove them from the habitat and prevent population expansion.
In June, researchers from the Conservancy of Southwest Florida found a giant Burmese python measuring nearly 18 feet long and weighing 215 pounds in the Florida Everglades. Burmese pythons are huge snakes and reach an average height of 8 to 10 feet, but they can grow much larger in rare cases.
This huge female snake was carrying 122 eggs.
Tracking females is not the only initiative in place to remove the species from the ecosystem.
Every year, Florida holds its "Python Challenge," which was created in 2013 to help eliminate invasive species.
The event lasts for 10 days, where participants enter to kill as many Burmese pythons as possible. Cash prizes are offered to those who catch the biggest and longest snakes.
Hundreds, if not thousands of snakes die from hunting. However, experts have previously said hunting is doing little to reduce the rapidly expanding population.