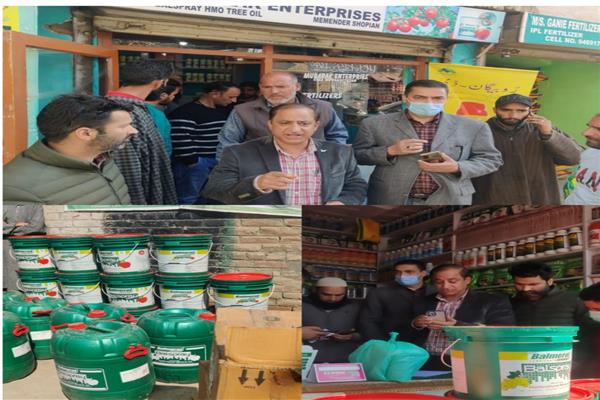 DG Horticulture launches crackdown on unregistered insecticides and spray oil dealers
Srinagar March 17 (KNS) Kashmir Director General of Horticulture, Ajaz Ahmad Bhat (JKAS), on Wednesday made an in-depth tour of South Kashmir where he gave an update on the availability of horticultural mineral oil (HMO) and inspected dozens of warehouses located in South Kashmir especially in Shopian district.
According to a press release published at Kashmir Information Service (KNS), The visit took place in the context of a campaign to control the sale/distribution of falsified and unauthorized pesticides and horticultural mineral oil in the valley. During the inspection, approximately 13,600 litters of HMO were found stored in contravention of the provisions of the Insecticides Act 1968 and subsequent rules. On becoming aware of this, notices under the relevant sections of the Insecticides Act 1968 have been issued to stop the distribution, sale and use of said stock.
Speaking on the occasion, the Chief Executive said the Department will ensure that the supply, spillage and distribution of Tree Spray Oil (TSO)/Horticultural Mineral Oil (HMO) does not not take place at agencies that are not duly authorized/registered with the Central Insecticide Commission. He also asked the Department's field agencies to closely monitor the sale of pesticides and HMOs, so that a farmer would be spared harm.
He also informed that the Department will organize a Horti-spring-2022 festival on 03/21/2022 at the Zawoora Center of Excellence which will last until April 15, 2022. The festival will include a fruit exhibition, a plant exhibition, Horti -Exhibition of machinery and planting training. The presentation of flooring in apricot, cherry, plum, peach, etc. will also be the main attraction of the festival. DG called on the general public to participate in the festival. (KNS)