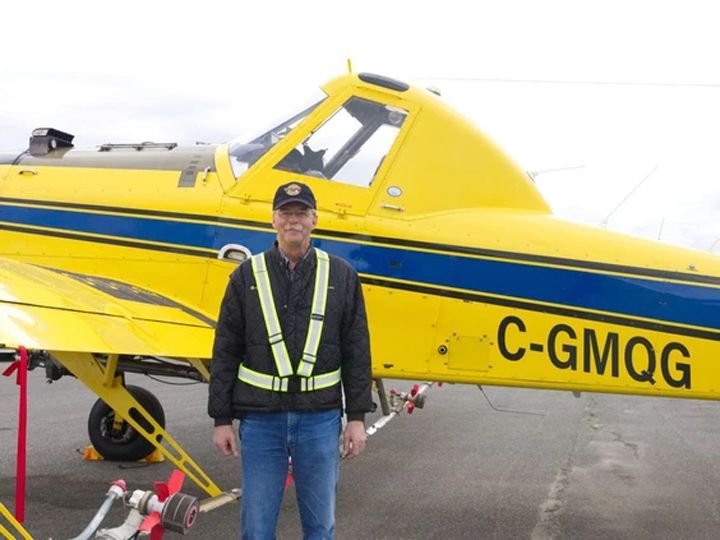 Cochrane Airport buzzes with insecticide spraying initiative
Content of the article
COCHRANE — A provincial initiative to limit the impact of a destructive insect is expected to wrap up operations in Cochrane this week.
Content of the article
A fleet of 15 aircraft – including 13 aerial sprayers and two control aircraft – have been flying regularly from Cochrane Airport since May 23 to spray a biological pesticide on five target forest areas in the region.
"We logged many hours," said Matt Clancey, director of ground operations at Forest Protection Limited, a New Brunswick company that currently works for the Department of Northern Development, Mines, Natural Resources and Forestry. .
The goal of the program is to control the spruce budworm population, said Meghan Forbes, regional outreach specialist for the MNDMNRF, not to eradicate it.
"It's a natural pest in the boreal forest," Forbes said. "They have their place."
She added that although the insect is always present, its population tends to skyrocket every 30 to 40 years. Since the larvae eat the needles of conifers – especially balsam fir and white spruce – the result of these population spikes is severe defoliation.
Left unchecked, "you'll see tree mortality in three to five years," Forbes said, which in turn can have major impacts on the logging industry and wildfire risk.
The ministry has been monitoring the spruce budworm population in the province's boreal forests for nearly a decade, and there's evidence of increasing numbers, she said.
In 2020, there were 442,000 hectares defoliated by the insect. In 2021, they were 1.3 million.
Content of the article
"It has increased aggressively."
To limit the impact of the spruce budworm, the planes applied a product called Btk (Bacillus thuringiensis kurstaki) on approximately 100,000 hectares.
"It's a natural bacteria," Clancey said. "It comes from the potato plant."
Btk is only toxic to spruce budworm moth and moth larvae, called Lepidoptera, and only when they ingest it. It does not affect humans or other vertebrates and breaks down naturally in three to seven days.
"It's safe," he said, adding that it's also available for home use and approved for organic farming.
Yet the team follows strict environmental conditions to apply the treatment.
"We want to make sure we put the right amount at the right time under the right conditions."
To ensure this happens, the MNDMNRF spent months prior to the operation consulting with stakeholders and communities and updating maps to reflect exclusions and inform flight paths, and all data has been consolidated in the GPS programming in the planes themselves.
Spruce budworm larvae complete their feeding phase in mid to late June, and moths from surviving caterpillars emerge in late June to early August.
The ministry will then resample the areas to ensure the treatment is effective.
"It's in everyone's interest that we do it right," Clancey said.
The MNDMNRF also plans to operate a similar program next year, Forbes said.
"It really is a marathon, not a sprint."
— Heather Brouwer writes for the Cochrane Times-Post