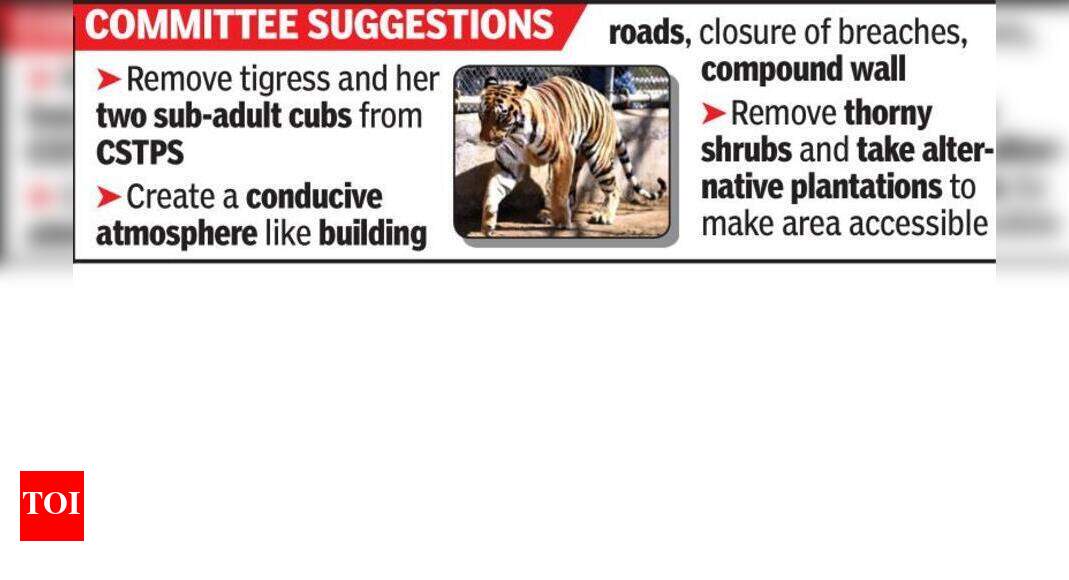 A panel will recommend the removal of three tigers from the CSTPS | Nagpur News
Nagpur: Fearing repercussions after a worker was killed in a tiger attack at Chandrapur Super Thermal Power Station (CSTPS), the six-member committee set up in accordance with NTCA SOPs on Thursday recommended the removal of a tigress and her two small sub-adults from the premises of the power plant extending over 10,000 hectares.
Sources said the committee will submit its recommendations to PCCF (wildlife) Sunil Limaye in a few days via Chandrapur CCF NR Pravin. Sources said the committee's decision is in line with recommendations from an 11-member State Board for Wildlife (SBWL) technical study group to remove tigers from WCL and CSTPS mining areas, and place them in safaris and zoos.
While it is unclear whether the tigress or her sub-adult cubs killed contract worker Bhojraj Meshram, videos of tigers roaming freely around the power station premises had gone viral on social media in recent days.
"The two sub-adults must be in search of new territory and this is a bad omen for passers-by and the inhabitants of the colony. Having grown up in scrubland dominated by thorny mesquite, it is impossible for these tigers to survive in a healthy forest area even if released there," the sources said.
This was proven by a CSTPS tiger, which traveled over 500 km to reach Sarni Power Station in MP, although it was captured and released in Satpura Tiger Reserve in December 2018. It killed two people on the way.
However, before removing the tigers, CSTPS management was instructed to create an enabling atmosphere such as roads, removal of mesquite, closure of breaches, perimeter wall among several other measures. Last time orders were issued to capture the problem tigers, but due to the hostile area this was not possible.
CCF Pravin reviewed on Thursday the measures taken by CSTPS officials to deal with the tiger problem. "Several measures that we have suggested have yet to be implemented by the plant. Hundreds of acres of premises are covered in mesquite and subabul trees. Capturing tigers in such an area is tough," Pravin said.
The CSTPS was tasked with removing thorny shrubs and taking alternative plantings to make the area accessible, constructing roads in the planting area and securing the perimeter of the plant to prevent animal intrusion.
On the contrary, the chief engineer of CSTPS, Pankaj Sapate, affirmed that the management is ready to help the forestry department in any way possible. "We have cleared 25 meters of plots along the roads and all stray animals in the area have been captured and removed. Prosopis adjoining residential areas is regularly cleared and roads mapped by the Forest Department for patrols have been prepared.
Sapate said, "All factory premises have been illuminated. Expired food from the quarters is disposed of through solid waste management, and both sides of Morghat nullah crossing the factory area have been cleared of vegetation.
"The work to repair and raise the perimeter wall is in progress. A fully integrated security system with CCTV cameras with AI sensors is being installed at a cost of Rs75 crore," Sapate told TOI.
One of the SBWL committee members said: "It was agreed that the vacuum created by the elimination of the tigers will be filled by other tigers, but it will take time and at that time the whole plan of mitigation for CSTPS should be in place".